With deep sadness we announce the sudden and untimely passing of our friend and brother, Juan Martin Vives, devoted husband of Gisela and father of Jana and Mark. Juan Martin was a member of the 2018 Inaugural Class of the Young Scholars Fellowship on Religion and the Rule of Law.
Only 39 years old at the time of his death on the night of October 1st, 2019, Juan Martin was an energetic legal scholar, academic leader, and speaker, a vibrant international voice on matters related to Law and Religion, Religious Freedom, and relations between Church and State.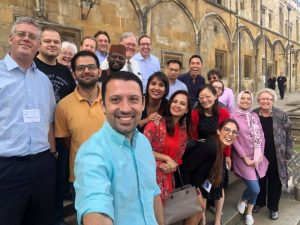 Juan Martin's group selfie, Oxford 2018
A Law graduate (JD), with a Diploma in Law Teaching, an LL.M. in Corporate Law, and a PhD in Public International Law, he was a professor of undergraduate and postgraduate courses at Universidad Adventista del Plata, Argentina, where he had served as General Counsel, Secretary of Student Management, and Secretary of Academic Services. He was appointed Director of the Center for Studies on Law and Religion (CEDyR) at UAP in 2015, and had only recently been appointed Dean of the Graduate School. At the time of his passing, he was was also serving as Secretary of the Consejo Argentino para la Libertad Religiosa (CALIR).
Juan Martin's Twitter post of August 1, 2019 sums him: "Estamos verdaderamente unidos no cuando todos pensamos y creemos exactamente lo mismo, sino cuando podemos convivir con nuestras diferencias y enriquecernos a partir de ellas."  We are truly united not when we think and believe exactly the same but when we can live together with our differences and enrich each other out of them.
Dear Brother Juan Martin, you have enriched us all! We are devastated at losing you. We send love and prayers to your family. How we will miss you!
Your friends from Oxford Summer 2018